To say we're excited to announce the our International Invitational breweries would be an understatement.

Brought to New Zealand in collaboration with our great friends at Beertique these three breweries hail from different corners of the UK and are pushing the beer game creatively on the other side of the world.
It's a privilege and a pleasure to have them at Beervana 2019.

Each brewery is sending a brewer over so you'll be able to chat face to face with the people behind the brew.
What's even more exciting is that each of these breweries are collaborating with a New Zealand brewer on a one-of, Beervana EXCLUSIVE beer to pour at the International Invitational bar.
So read on, find out who's coming, who they're collab-ing with and get your ticket now!
About Beertique: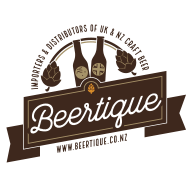 NZ'S PREMIUM BEER IMPORTER AND DISTRIBUTOR
Beer is renowned for being a temperamental traveller, but here at Beertique we do everything in our power to ensure it tastes as good as it did when it left the brewery. We work closely alongside brewers, suppliers and freight providers that share our passion to guarantee quality is maintained and the beer arrives fresh.

With the help of: